Skip to content
Free Shipping on US Orders $85+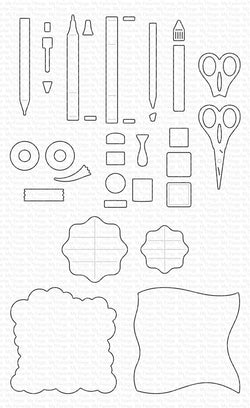 Tools of the Trade Die-namics
The tools you use can make or break a project. I think we can all understand the frustration of using a dull pair of scissors or struggling to find the end of the roll of tape and appreciate the possibility of a brand-new stencil or dependability of a classic stamp block. Tools of the Trade features a vast array of essential cardmaking tools, including some specific to My Favorite Things! Mini Messages and More includes images necessary to customize some of the elements in this set particular to your favorite crafty company so make sure you purchase both to maximize the versatility of this set!
Die-namics, our very own exclusive American-made line of steel dies, work with a variety of die-cutting machines. Find your stack HERE.
December 2022 Release - (12) piece set
Stencils (2) 2" x 2"
Acrylic stamp blocks (2) 1 1/4" x 7/8"
Scissors 3/4" x 1 5/8" assembled
Embossing powder/glitter container 3/8" x 1/2"
Container lid top view 3/8"
Glue pen 1/4" x 1 5/8"
Blending foam with handle 3/8" x 7/8"
Ink cube 1/2" x 1/2"
Pencil 1/8" x 1 5/8"
Alcohol markers (open and closed options) 1/4" x 2"
Pen 1/4" x 1 7/8"
Tape roll 7/8" x 5/8"
Torn tape 3/4" x 1/4"