Skip to content
Free Shipping on US Orders $85+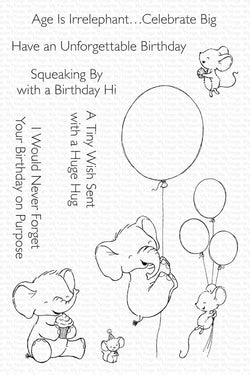 SY Unforgettable Birthday
These playful pachyderms from Stacey Yacula will provide jumbo-sized fun as you craft birthday greetings both future and belated. The elephant pair is accompanied by a trio of party-ready mice, and each character bears a birthday essential — party hats, balloons, and tasty treats. Whether you seek to send greetings that are boldly trumpeted or simply squeaked, this set will provide an option!
Our clear stamps are made in the USA and include the name of the set on the sticker for easy identification.
March 2023 Release - 4" x 6" clear stamp set – (10) piece set
Sentiments: Age Is Irrelephant...Celebrate Big, Have an Unforgettable Birthday, Squeaking By with a Birthday Hi, A Tiny Wish Sent with a Huge Hug, I Would Never Forget Your Birthday on Purpose
Elephant with balloon 1 5/8" x 4 3/8"
Elephant with cupcake 1 1/4" x 1 1/2"
Mouse with balloons 1" x 2 7/8"
Mouse with cupcake 5/8" x 7/8"
Mouse in party hat 3/8" x 1/2"