Skip to content
Free Shipping on US Orders $85+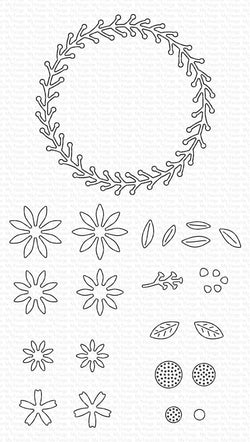 Sunflower Wreath Die-namics
In addition to acting as a beautiful autumn floral motif, sunflowers symbolize loyalty, happiness, and optimism. Their sunny disposition is a welcome addition to your cardmaking in various forms, but the Sunflower Wreath die set provides the ability to create not only single flower heads but also a guide for creating a lush wreath of this iconic flower. 
Die-namics, our very own exclusive American-made line of steel dies, work with a variety of die-cutting machines. Find your stack HERE.
August 2022 Release - (10) piece set
Wreath 3"
Flowers (4) 1", 3/4", 5/8", 1/2"
Stem with buds 3/8" x 3/4" assembled
Veined leaves (2) 1/4" x 1/2"
Simple leaves (5) 1/8" x 1/2"