Skip to content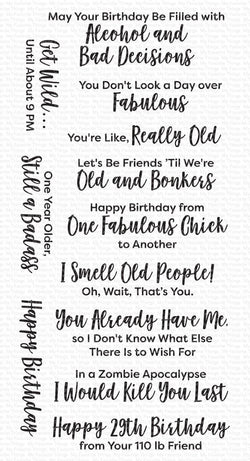 Sassy Pants Birthday Greetings 3
For the friend that has everything, including the best friend ever (YOU) and an appreciation for plucky humor, might we suggest this hilarious collection of birthday greetings? The modern mix of script and sans serif fonts make it easy to integrate these sentiments into almost any style. If you love the style but need a fast classic, a sweet, simple "Happy Birthday" is also included.
Sentiments range from approximately 1 5/8" x 5/8" (Get Wild…until about 9 PM) to 3" x 1" (May Your Birthday Be Filled with Alcohol and Bad Decisions)
Our clear stamps are made in the USA and include the name of the set on the sticker for easy identification.
July 2021 Release - 4" x 8" clear stamp set – (12) piece set
Sentiments: May Your Birthday Be Filled with Alcohol and Bad Decisions, You Don't Look a Day over Fabulous, You're Like, Really Old, Let's Be Friends 'Til We're Old and Bonkers, Happy Birthday from One Fabulous Chick to Another, I Smell Old People! Oh, Wait, That's You., You Already Have Me, so I Don't Know What Else There Is to Wish For, In a Zombie Apocalypse I Would Kill You Last, Happy 29th Birthday for Your 110 Lb Friend, Get Wild…until about 9 PM, One Year Older, Still a Badass, Happy Birthday