Skip to content
Free Shipping on US Orders $85+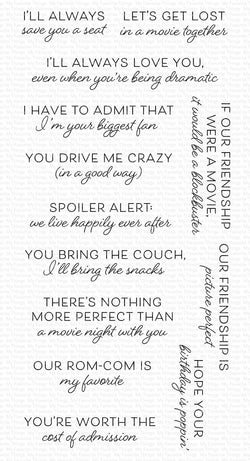 Picture-Perfect Sentiments
There are casual friends, then there are movie buddies — the kind that understands the perfect timing to sneak in an observation about the movie you're watching together. From romantic nights at home on the couch to trips with your gang of friends for a night at the theater, Picture-Perfect Sentiments has a just-right sentiment to pair with a huge range of movie-themed designs to celebrate your relationships.
Our clear stamps are made in the USA and include the name of the set on the sticker for easy identification.
March 2023 Release - 4" x 8" clear stamp set – (13) piece set
I'll Always Save You a Seat 1 1/2" x 1/2"
Let's Get Lost in a Movie Together 1 7/8" x 1/2"
I'll Always Love You, Even When You're Being Dramatic 3 1/4" x 1/2"
I Have to Admit That I'm Your Biggest Fan 2 1/2" x 1/2"
You Drive Me Crazy (in a Good Way) 2 1/2" x 1/2"
Spoiler Alert: We Live Happily Ever After 2 3/8" x 1/2"
You Bring the Couch, I'll Bring the Snacks 2 3/4" x 1/2"
There's Nothing More Perfect than a Movie Night with You 2 1/2" x 3/4"
Our Rom-Com Is My Favorite 2" x 1/2"
You're Worth the Cost of Admission 2 1/4" x 1/2"
If Our Friendship Were a Movie, It Would Be a Blockbuster 2 3/8" x 5/8"
Our Friendship Is Picture Perfect 2 1/8" x 1/2"
Hope Your Birthday Is Poppin' 1 3/4" x 1/2"