Skip to content
Free Shipping on Contiguous US Orders $85+
High Fives for HUGE Savings — Save 45% on 1️⃣ Stamps 2️⃣ Dies 3️⃣ Stencils 4️⃣ Rubber Backgrounds 5️⃣ Inks with Code HI5 Applied at Checkout 🖐🏼 Order NOW *excludes new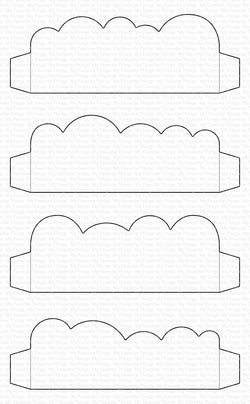 Outside the Box Clouds Die-namics
This Is How Outside the Box Shelf Dies Will Change Your Box Card Life:
"I love, love, love them! I usually cringe when I get to the step of having to make the shelves because I'd have to measure and cut eight strips (four for the shelves and four for the grass/snow/wave add-ons). They seriously save me 30 minutes per card!" ~Rachel Alvarado, MFT Design Team
Your dimensional scenes will float magically among this sky-high quartet of puffy cloud shelf additions for your Outside the Box projects. The offset placement and perfectly spaced shelves of these all-in-one Die-namics allow them to be cut with a single pass through your die-cutting machine. Just add characters and elements to complete the look!
Die-namics, our very own exclusive American-made line of steel dies, work with a variety of die-cutting machines. Find your stack HERE.
December 2020 Release - (4) piece set