Skip to content
Free Shipping on US Orders $85+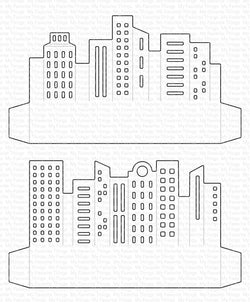 Outside the Box Cityscape Die-namics
Bring big city vibes to your box card designs with this duo of skyline shelf dies. An eclectic mix of skyscrapers intermingles in this pair of urban-inspired scene-building accents. Each shelf measures approximately 2 3/8" tall, providing height for your box cards and plenty of area to adhere to high-flying characters or weather effects.
For best results and cleanest cuts, we recommend this die be used with the Large Metal Adapter Plate.
Die-namics, our very own exclusive American-made line of steel dies, work with a variety of die-cutting machines. Find your stack HERE.
August 2022 Release - (2) piece set