Skip to content
Free Shipping on US Orders $85+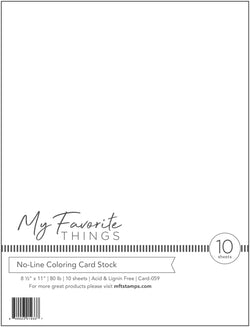 No-Line Coloring Card Stock
This 80 lb. card stock is perfect for no-line coloring. Use with light-colored inks for a beautiful outcome.
This particular specialty cardstock has an ultra-smooth finish and accepts the Copic ink in such a way that no-line coloring looks stellar on it. That being said, it's also a great option for standard Copic coloring when stamping with a black outline. Heat set MFT Hybrid Inks for best results.
Pack includes (10) 8 1/2" x 11" sheets.