Skip to content
Free Shipping on US Orders $85+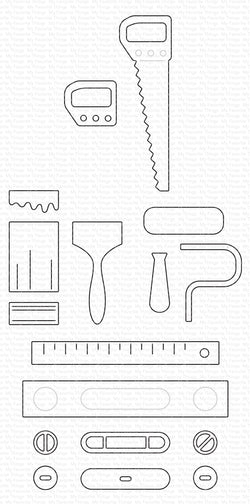 In the Toolbox Set 1 Die-namics
You came, you saw, you created something beautiful for your hardworking friends and family — that's the goal with the In the Toolbox series of dies. This set includes the starter pack of home maintenance must-haves that conveniently, are sized to perfectly drop into the compartments on the Cool Caddy. In the Toolbox Set 1 includes a saw, paintbrush, paint roller, level, and ruler.
Download the In the Toolbox Set 1 Die-namics Assembly Diagram PDF HERE.
Die-namics, our very own exclusive American-made line of steel dies, work with a variety of die-cutting machines. Find your stack HERE.
September 2023 Release – (5) piece set
Saw 1" x 3 1/4"
Paintbrush 7/8" x 2 7/8"
Paint roller 1 3/4" x 2 3/4"
Level 5/8" x 3 3/4"
Ruler 3/8" x 3 1/2"