Skip to content
Free Shipping on US Orders $85+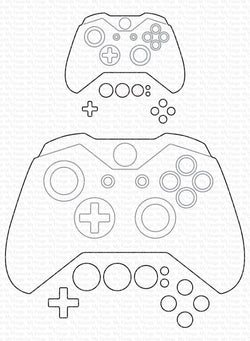 Game Controller Die-namics
Got gamers in your life? Celebrate them by recognizing a favorite hobby with the Game Controller Die-namics. With this set, you'll quickly be creating realistic, dimensional controllers. The body of the device includes emboss lines for quick and easy placement of the coordinating control buttons. Take your crafting to the next level with this techy tool. This design is identical to the original version and has not been altered. The etching in the metal has been changed to make it easier to remove the die cuts in some areas, where possible.
The Game Controllers Die-namics include pieces necessary to assemble controllers measuring 3 1/2" x 2 3/8" and 1 3/4" x 1 1/8".
Die-namics, our very own exclusive American-made line of steel dies, work with a variety of die-cutting machines. Find your stack HERE.
September 2019 Release - (8) piece set
Large controller 3 1/2" x 2 3/8" assembled
Small controller 1 3/4" x 1 1/8" assembled