Skip to content
Free Shipping on US Orders $85+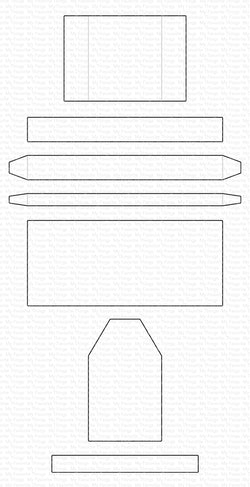 Well isn't this handy! A really, really cool little dimensional caddy that can be used to house any number of items. This endlessly versatile design can be customized to suit the needs and interests of everyone on your list, but it would also work wonderfully as the base for small favors or place settings (we're thinking some fall florals of the dried or paper variety would be stunning and the included sentiment strip provides a perfect spot for a name!). It features inner shelves that act as dividers and provide space to stock your caddy with lots of fun inserts. When flattened, it fits inside an A2 envelope for easy mailing. You can pair your caddy with the Crafty Tools die set to greet your cardmaking besties or the In the Toolbox sets for your hardworking hubby…that's just the beginning, though — we can't wait to see what else you come up with!
Download the Cool Caddy Die-namics Assembly Diagram PDF HERE.
Die-namics, our very own exclusive American-made line of steel dies, work with a variety of die-cutting machines. Find your stack HERE.
September 2023 Release – (7) piece set
Caddy base 4" x 1 1/2" x 2 1/2" tall assembled with handle
Exterior plank 4" x 1/2"
Sentiment strip 3" x 3/8"