Skip to content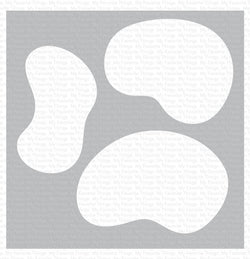 Pastures, Ponds, & Pools Stencil
Stencils are a cost-effective tool that provide for the application of an endless variety of mediums. This stencil, in particular, provides for an endless variety of scene-building options as well, though! It features three amorphous shapes intended to create grounding elements to accommodate a range of characters, critters, and scenes. Take your pick of the spots to craft pastures for grazing farm animals, ponds for frogs, ducks, and insects to inhabit, or pools for summer relaxation. You could also use these versatile shapes to craft custom-patterned panels for your cards and tags. We're excited by the possibility this humble design will add to your crafting!
My Favorite Things is thrilled to bring you our line of premium stencils. These exclusive, American-made stencils will be an essential ingredient in your paper crafting and mixed media projects from this moment forward.
With our stencils you can paint, spray, mist, spritz, airbrush, sponge, doodle, mask, and more on a variety of surfaces including card stock, canvas, cork, chipboard, acetate, and fabric.
June 2022 Release – 6" x 6" stencil