Skip to content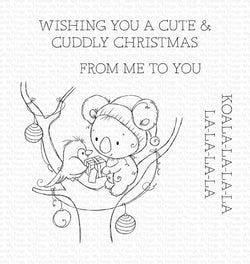 RAM Cute & Cuddly Christmas
The cuddliest greetings of the Christmas season come courtesy of this darling duo. A beanie-bearing koala and delightful little bird exchange gifts in a tree decked out for the holidays. Your coloring skills will bring this charming scene to life and enchant your loved ones when it lands in their mailbox.
Our clear stamps are made in the USA and include the name of the set on the sticker for easy identification.
October 2022 Release - 4" x 4" clear stamp set – (4) piece set
Sentiments: Wishing You a Cute & Cuddly Christmas, From Me to You, Koala-la-la-la-la-la-la-la
Koala and bird in tree 2 5/8" x 2 1/2"