Skip to content
Free Shipping on US Orders $85+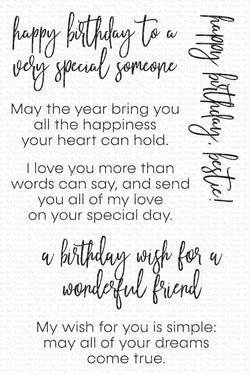 Inside & Out Birthday Greetings
This carefully conceived all-in-one birthday sentiment set is intended to make it easy to add a pretty birthday greeting to your card front, followed up by a more comprehensive concluding thought on the interior. The exterior options feature a whimsical script font that will immediately catch the eye of your recipient, while the follow-up sentiments are heartfelt and rendered in a clean and classic sans serif for easy readability.
Our clear stamps are made in the USA and include the name of the set on the sticker for easy identification.
July 2022 Release - 4" x 6" clear stamp set – (6) piece set
happy birthday to a very special someone 2 5/8" x 1 1/4"
a birthday wish for a wonderful friend 2 7/8" x 1 1/8"
happy birthday, bestie! 3" x 3/4"
May the year bring you all the happiness your heart can hold. 2 5/8" x 3/4"
I love you more than words can say, and send you all of my love on your special day. 2 7/8" x 1"
My wish for you is simple: may all of your dreams come true. 2 7/8" x 3/4"