Skip to content
Free Shipping on US Orders $85+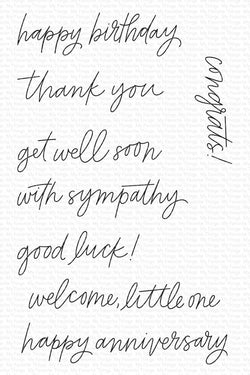 All-Occasion Scripted Greetings
Your sentiment stash is about to grow — this is one set you simply must have! Several greeting options encompass a wide range of occasions, each in a pretty hand-scripted style. Perfect for accenting your card front or finishing off the card interior with a heartfelt message, you'll get so much mileage out of All-Occasion Scripted Greetings.
Our clear stamps are made in the USA and include the name of the set on the sticker for easy identification.
February 2022 Release - 4" x 6" clear stamp set – (8) piece set
happy birthday 2 5/8"
thank you 2 1/4"
get well soon 2 3/8"
with sympathy 2 3/4"
good luck! 2"
welcome, little one 3"
happy anniversary 3 1/4"
congrats! 1 3/4"