Skip to content
Free Shipping on US Orders $85+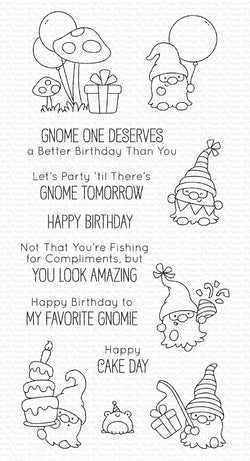 JB Happy Birthday to My Favorite Gnomie
These pint-sized gnomes are all beards and hats and will make an adorable addition to your craft stash. A birthday party in a little garden nook sounds just about perfect…these cuties are ready to set the scene with gifts, balloons, a cake, and more! What a way to pack a punch on your next birthday card!
Our clear stamps are made in the USA and include the name of the set on the sticker for easy identification.
July 2023 Release - 4" x 8" clear stamp set – (13) piece set
Sentiments: Gnome One Deserves a Better Birthday Than You, Let's Party 'til There's Gnome Tomorrow, Happy Birthday, Not That You're Fishing for Compliments, but You Look Amazing, Happy Birthday to My Favorite Gnomie, Happy Cake Day
Balloon gnome 1 1/4" x 1 5/8"
Banner gnome 1" x 1 1/2"
Party popper gnome 1 3/8" x 1 1/2"
Cake gnome 1 1/8" x 1 7/8"
Gift gnome 1 1/4" x 1 1/2"
Mushroom grove 1 1/2" x 1 3/4", Toad 1/2" x 1/2"