Skip to content
Free Shipping on Contiguous US Orders $85+
High Fives for HUGE Savings — Save 45% on 1️⃣ Stamps 2️⃣ Dies 3️⃣ Stencils 4️⃣ Rubber Backgrounds 5️⃣ Inks with Code HI5 Applied at Checkout 🖐🏼 Order NOW *excludes new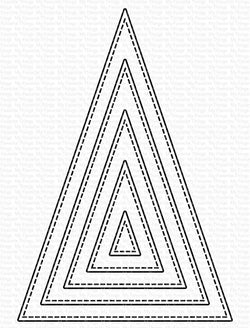 Stitched Tall Triangle STAX Die-namics
You'll reach for this versatile assortment of triangles again and again. The wide range of sizes makes them ideal for endless applications, while the stitched perimeter provides a bit of texture and interest. Create custom patterns by mixing and matching different sizes and colors to create an intriguing base layer for a simple stamped or die-cut sentiment. Craft unique windows and frames for shaker looks. Use them to construct custom banners or pennants. Or, try layering a handful to "grow" a grove of minimalist Christmas trees!
Die-namics, our very own exclusive American-made line of steel dies, work with a variety of die-cutting machines. Find your stack HERE.
September 2021 Release - (5) piece set
3 1/4" x 4 3/4"
2 1/2" x 3 3/4"
1 7/8" x 2 3/4"
1 1/8" x 1 3/4"
1/2" x 3/4"