Skip to content
Free Shipping on US Orders $85+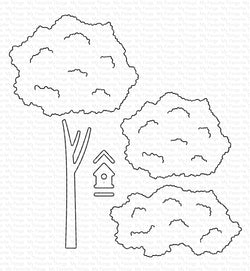 Lush Landscape Die-namics
This goes-with-everything trio of landscape options will become an immediate favorite in your stash for beefing up your outdoor scenes. Mix and match the canopy/bush options with the tree trunk to craft everything from a backyard scene to dense forest. Cut lines provide detail while a petite birdhouse serves as an accent and cozy home for feathered friends.
Die-namics, our very own exclusive American-made line of steel dies, work with a variety of die-cutting machines. Find your stack HERE.
May 2023 Release - (5) piece set
Tree 2 1/2" x 4"
Bushes (2) 2 1/8" x 1 5/8", 2 1/2" x 1 3/8"
Birdhouse 3/8" x 1/2"