Skip to content
Free Shipping on US Orders $85+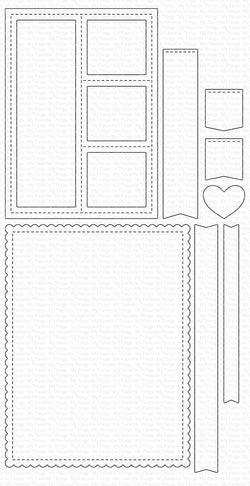 Blueprints 27 Die-namics
$39.99


Special Price:

$23.99
Blueprints: The Foundation for Your Creativity

Download Blueprints 27 Sketches HERE.
Let's play! Blueprints 27 includes everything you need to assemble creative cards for just about any occasion. A stitched and scalloped base panel will add an element of sweetness to your next project. The inner rectangle features three small rectangle windows which would work well for featuring pretty flowers, cute animals, and fun scenes, and the long rectangular window would be the perfect spot for a sweet sentiment. The stitched line around all of the windows adds a wonderful element of detail. Accessories include two accent strips, three banners, and a sweet heart to top it all off. Let your creativity soar with Blueprints 27!
Die-namics, our very own exclusive American-made line of steel dies, work with a variety of die-cutting machines. Find your stack HERE.
March 2016 Release - (8) piece set
Scalloped panel 4" x 5 1/4"
Stitched window panel 3 3/8" x 4 1/2" (inner rectangle measures 4" x 1 1/4" and small rectangles measure 1 1/4" x 1 1/8")
Large strip 5 3/8" x 1/2"
Small strip 3 7/8" x 3/8"
Long fishtail banner 3/4" x 3 5/8"
Short fishtail banner 3/4" x 7/8"
Small banner 3/4" x 7/8"
Heart 7/8" x 3/4"