Skip to content
Free Shipping on Contiguous US Orders $85+
High Fives for HUGE Savings — Save 45% on 1️⃣ Stamps 2️⃣ Dies 3️⃣ Stencils 4️⃣ Rubber Backgrounds 5️⃣ Inks with Code hi5 Applied at Checkout 🖐🏼 Order NOW *excludes new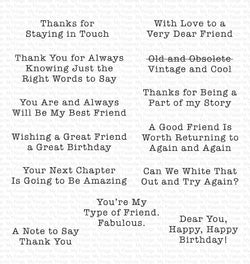 Typewriter Sentiments: Friendship
A typewriter by itself is just an amusing memento that recalls a time when desktop computers weren't a standard feature in our lives. A neatly typed message, though, provides personality and turns a nostalgic scene into a charming means of conveying a heartfelt message. When paired with the Typewriter Die-namics, this delightful little set will help you send the perfect words of friendship, encouragement, thanks, and more in an instantly familiar typewritten font.
Sentiments range from approximately 1" (A Note to Say Thank You) to 1 7/8" (Your Next Chapter Is Going to Be Amazing) in width.
Our clear stamps are made in the USA and include the name of the set on the sticker for easy identification.
January 2023 Release - 4" x 4" clear stamp set – (13) piece set
Thanks for Staying in Touch, Thank You for Always Knowing Just the Right Words to Say, You Are and Always Will Be My Best Friend, Wishing a Great Friend a Great Birthday, Your Next Chapter Is Going to Be Amazing, With Love to a Very Dear Friend, Old and Obsolete Vintage and Cool, Thanks for Being a Part of My Story, A Good Friend Is Worth Returning to Again and Again, Can We White That Out and Try Again?, You're My Type of Friend. Fabulous., A Note to Say Thank You, Dear You, Happy, Happy Birthday!