Skip to content
Free Shipping on US Orders $85+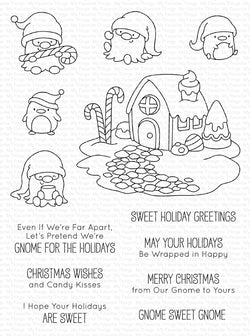 JB Gnome for the Holidays
One of the true pleasures of the holidays, and winter in general, are cozy days spent ensconced in a warm and comfy house. A gingerbread-like home tucked in a magical spot is an ideal gathering spot for this trio of gnomes and their pair of penguin friends. You'll love coloring this candy-coated cubbyhole to craft a welcoming spot for the characters to deliver heartfelt wishes to those you love.
Our clear stamps are made in the USA and include the name of the set on the sticker for easy identification.
October 2023 Release - 6" x 8" clear stamp set – (13) piece set
Sentiments: Even If We're Far Apart, Let's Pretend We're Gnome for the Holidays, Christmas Wishes and Candy Kisses, I Hope Your Holidays are Sweet, Sweet Holiday Greetings, May Your Holidays Be Wrapped in Happy, Merry Christmas from Our Gnome to Yours, Gnome Sweet Gnome
Gnomes (3) 1 5/8" x 1 1/2", 1 3/8" x 1 1/4", 1 3/8" x 1 3/8"
Penguins (2) 1 1/8" x 1 1/8", 1" x 1 1/8"
House 3 7/8" x 3"