Skip to content
Free Shipping on Contiguous US Orders $85+
High Fives for HUGE Savings — Save 45% on 1️⃣ Stamps 2️⃣ Dies 3️⃣ Stencils 4️⃣ Rubber Backgrounds 5️⃣ Inks with Code hi5 Applied at Checkout 🖐🏼 Order NOW *excludes new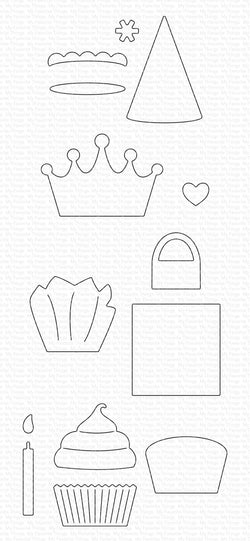 Birthday Basics Die-namics
Crown the birthday boy or girl with one of the birthday essentials featured in this fun and comprehensive set of buildable icon options. Gifts, décor, and party accessories are all featured in the essential Birthday Basics die set. Pair with Birthday Cash and the Money Card Die-namics for fast and easy gifts on the go!
Die-namics, our very own exclusive American-made line of steel dies, work with a variety of die-cutting machines. Find your stack HERE.
November 2022 Release - (4) piece set
Gift bag 1 1/4" x 2" assembled
Party hat 1 1/8" x 1 3/4" assembled
Cupcake 1 1/4" x 1 1/2" assembled
Candle 1/8" x 1 1/4"
Crown 1 3/4" x 1 1/4"
Heart 1/4" x 1/4"