If You Like It, Put a Ring on It — Inspiring Wreath Builder Projects from the MFT Team
By Erica Hernandez
May 24, 2019
Before we get to today's post, we have our randomly selected Spotlight Poppies Card Kit Launch winner. Our lucky winner has won a $50 Shopping Spree to the MFT boutique. Enjoy!
from Amy's blog: amymwz
Amy, please send an email to erica@mftstamps.com to claim your prize  – congratulations!
---
We have a fun bonus challenge for the team this month — we've asked them to get creative with MFT stamps and the Gina K Wreath Builder Templates and WOW, have they delivered. This template set comes with both 3 3/4" and 4" wreath templates to give you more options for your designs. As you'll soon discover, there are a multitude of ways to use these handy tools with your stamps and Die-namics.
Let's check out some of the inventive wreaths they've crafted.
Francine used the template to create a charming wreath of ducks, flowers, and foliage before using her deft cutting skills to trim the entire design out as a single piece. Attaching the wreath with some dimensional adhesive provides a sturdy base for the sentiment perched on top.
Fab-BOO-lous Friends wreath the perimeter of this fun Halloween card. Torico has pushed her design to the outside edges of her card front maximizing the space she has to work with. She's punctuated the interior space with a smattering of stars from the same stamp set.
This design from Debbie is simple and sweet. Alternating flowers and foliage from a Tweet Hello form her repeating pattern while a stamped flower trio creates a custom, coordinated panel to showcase her work.
Ready to see more? Check out what the rest of the participants have created for today's challenge! We'd love to see how you're making the Wreath Builder Templates + MFT harmonize as well so tag us with #mftstamps so we can be inspired by your work!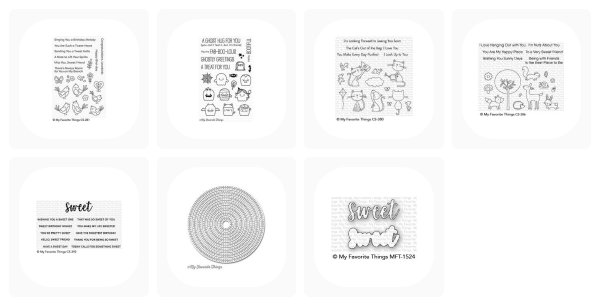 10 comments
The wreath builder is so much fun! The "You are Faboolous" card is so awesome!
Charlotte Chaput
May 31, 2019
Can't wait until June 4th
Vivian Sullivan
May 30, 2019
Simple and sweet is beautiful! I love the look of a clean and simple card! Thank you for sharing!
Beautiful cards!
Congrats to Amy!!!
Arianna Barbara
May 25, 2019
THE DUCKS!!!!!!!!!!!!!!!!!!!!!!!!!!!!!!!!!!!!!!!!!! Oh my gosh!!!!!!!!
Sharon Gullikson
May 24, 2019
Love all the ways they have used the wreath builder!!
Conniecrafter
May 24, 2019
Thank you for the inspiration! Your team is so talented!! I love the ideas and am inspired to bring out my wreath builder and other stamp sets to try some of my own!
Barbara Rokke
May 24, 2019
Super creative wreaths!! Wonderful cards! :)
Karthikha Uday
May 24, 2019
These cards are absolutely adorable! I love what you guys have done! Just darling! XO
Gina Krupsky
May 24, 2019
Leave a comment