Take Another Look at the Spotlight Poppies Card Kit before Making It Yours Tomorrow!
By Erica Hernandez
May 20, 2019
We have one more day to preview our Spotlight Poppies Card Kit before it's available for purchase tomorrow morning. Today we're sharing even more inspiration and a handy PDF download.
You can enter to win by commenting on each of the two countdown posts on the MFT Blog before 8 PM EDT on May 20. Please leave only one comment per person, per day.
One winner will be randomly selected from each countdown day, and both winners will be announced at 10 AM EDT on May 21 on the MFT Blog.
As a reminder, this coordinated collection will be available as a single purchase product — no need to commit to a long-term subscription. The purchase price for this kit is $42.99. In addition to the Poppy Blooms stamp set & Die-namics and Poppies Background,  you'll receive five sheets of Smooth White Card Stock, and one sheet each of Poppy, Orange Zest, Pineapple, and Black Licorice. If you'd prefer to purchase the products individually, you can do that too!
The Spotlight Poppies Card Kit PDF features card samples as well as a complete listing of the kit contents. You can download a printable version HERE.
Big, bold images paired with dramatic color choices make this card from Stephanie an unforgettable showcase of the possibility the Spotlight Poppies Card Kit brings to your collection. High-contract black & white, Copic coloring that creates incredible depth, and creative cutting techniques all work together to bring her vision to life.
Watch this week's episode of MFTv: Spotlight Poppies | May Card Kit Sneak Peek featuring the Spotlight Poppies Card Kit on YouTube or watch the video below. To be entered into the weekly drawing, be sure to leave a comment on this video on our YouTube channel – the winner will be selected from there!
Click through to each of our Design Team member blogs to see what they've created with the new May kit. Remember, all of our mid-month release products will be available tomorrow at 10 AM EDT!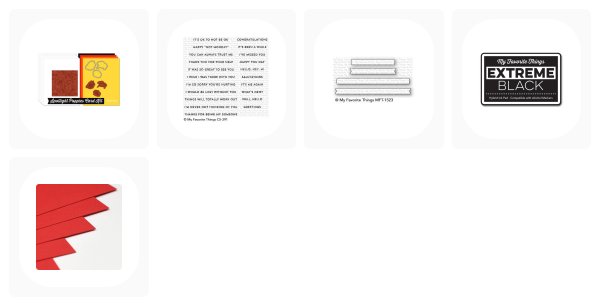 77 comments
The poppy stamp has many possibilities. The Red/black/white sample gets your attention. I'm 86 yr. and stamp
every day, just love this hobby.
I only own one color of MFT cardstock, and it is a lime green, so I am really looking forward to playing with the beautiful cardstocks included in this kit. Great video, and very clear instructions on how to duplicate the card. Thanks so much.
Linda S. in NE
May 29, 2019
I like the classic look of this card. The black white and red is right up my alley. I think that I would up the flowers also.
other colors in the three combination would work as well.
Love the beautiful red, black and white example. Right in the wheelhouse.
Tammy Hanson
May 21, 2019
Kelly Kuharik
May 21, 2019
Marilyn Cotter
May 21, 2019
I really like this card kit. The layering flowers are a neat idea, and I LOVE poppies!
Robyn H Grogan
May 21, 2019
There are few blooms I love more! Thanks
A lovely floral card – like the added dimension :)
Stephanie Zilmer
May 21, 2019
Fabulous, and very creative!
Mirella Rogan
May 21, 2019
I love poppies and this kit is a must have! I really like the addition of the poppy blooms stamp and dies.
This kit is simply fabulous!
These poppies are just gorgeous! Love the beautiful creations from the DT.
Love this! Beautiful cards!
Gorgeous project, gorgeous stamps!! Wow!
Background stamp, individual stamps, and dies…this one has everything!
Pamela Landers
May 20, 2019
poppies will never get old <3
Linnea Sundstrom
May 20, 2019
Valerie A McEowen
May 20, 2019
What a lovely kit this is!
Love this kit! The paper colors are perfect for poppie!
Leave a comment