Today Only, Choose Your FREE Stamp Set, Then Check In for MFT Camp Create Day 1
By Erica Hernandez
July 15, 2019
We are so excited to kick off Camp Create 2019, but before we choose our bunks and claim our spot around the campfire, we had to mention a purr-fectly awesome one-day promo. Today only, select from THREE different sets of lovable, snuggable stamp sets FREE with every order of $45! Which cute critters top your list?
---
Well hello there, campers! Welcome to the first session of MFT Camp Create for 2019. We'll be with you all week sharing crafty ideas and challenges that take your card making to the next level. Earn badges, share your crafts with your fellow campers, and maybe even win an MFT shopping spree — that's better camp souvenir than a bag of dirty laundry or a case of poison ivy and day!
Now that we've settled in and made our virtual introductions let's talk about our plan for the week. The goal is to participate in our craft sessions each day and earn your Camp Create badges. As a participant in Camp Create, you immediately earn the badge pictured above. Copy this image and share it on your blog, Facebook page, or Instagram feed to let everyone back home know how you spent your summer vacation.
Today's Craft: Wonderful Watercolor
Summer camp and water go hand-in-hand so let's kick things off with some watercolor fun! It's all about having fun, experimenting with your creativity, and creating projects you love. We're hoping that by the end of the week, you'll have learned a lot and earned those five badges. Are you ready campers? Let's begin.
Join camp counselor Stephanie today to see how she created this duo of cards featuring Ken Oliver Color Burst Watercolors and the Fairy-Tale Friends stamp set and Die-namics. 
Watch Camp Create 2019 | Wonderful Watercolor on YouTube or by playing the embedded video below.
Here's how to earn today's badge:
Watch today's video and follow the Creative Challenge issued at the end of the video.
Link your project below for your chance to win!
Add the badge below to your blog post to show you've earned it.
This week as a Camp Create camper, you have three ways to win:
To be eligible to win a $25 voucher: Participate in today's craft and upload an image via InLinkz on today's post. Winners will be chosen randomly from the InLinkz entries.
To be eligible to win a $15 voucher: Subscribe to our MFTv channel on YouTube and comment on today's video. Winners will be chosen randomly from comments on the YouTube video.
To be eligible to win the $150 Grand Prize: Earn all five badges for the week by participating in each craft presented this week (via the InLinkz on each blog post). One random winner will be chosen for the week!
The deadline to comment and upload your images is Thursday, July 25 at 10 PM EDT.

All winners will be announced Monday, July 29, so make sure to check back to see if you are a winner!

Can't wait to see what you create! 
SUPPLIES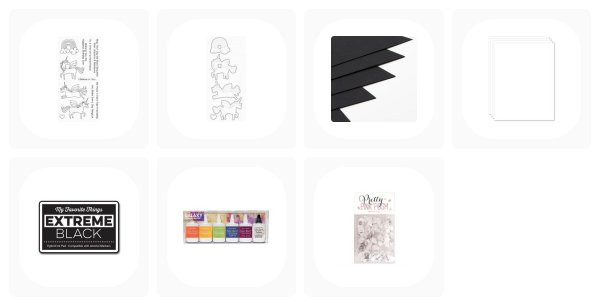 Please direct link to your card/project created for today's Camp Create lesson from your blog, Instagram, or online gallery. All winners will be announced on Monday, July 29.
Click here to enter
25 comments
i always love camp create. inspired to pull out my color bursts soon.
Wow, what a gorgeous background! I am feeling inspired to pull out my Color bursts and give this a try.
Love the beautiful galaxy background. Very inspiring !
Thank you for this Camp Create event. I don't think I have participated in it before, although I have admired the projects.
<3 J
jwoolbright at gmail dot com
HerPeacefulGarden.blogspot.com
Janis in ID
July 18, 2019
MAGICAL backgrounds and CUTE cards!
It was wonderful watching as you built up the layers to create the galaxy effect – WOW!
THANK YOU for sharing and INSPIRING … I confess that I usually have a TIGHT grip on my ruler and I'm ever-so-tempted to let it go and make some magic happen too :)
TracyM #6773
July 18, 2019
Was fun using Ken's super powdered inks. Camp Create is a challenge!
Love these gorgeous galaxy backgrounds!
Both of these cards look amazing with your watercolour galaxy and the cute as unicorn.
Aileen Ryan
July 17, 2019
Heidi Gonzales
July 16, 2019
Awesome informative video along with two gorgeous cards! thanks
Marybeth Lopez
July 16, 2019
I love the watercolor galaxy background! And the finished cards are beautiful! Summer camp is fun!
Zlatka Kabaivanova
July 16, 2019
Love how you have created these beautiful cards – the galaxy is so shiny and fun
Dee Earnshaw
July 16, 2019
Love this water color background technique. Can't wait to give it a try.
Now I am ready to try out my Colorburst, I have been kind of afraid to try this technique. Seeing the whole process has made me realize there is hope I will be creating more than just a mess!
Melanie Hungerford
July 15, 2019
The Video was inspiring with all the Colorburst powders – TFS and for the Camp Create – I look forward to creating – Have a blessed week!
Great watercolor background and a fun technique….tfs
terrie rodrigue
July 15, 2019
The Video was inspiring with all the Colorburst powders – TFS and for the Camp Create – I look forward to creating – Have a blessed week!
Such a beautiful background which is just perfect for these gorgeous unicorns. Simply magical all around
Beautiful watercoloring!! As you were going thru the process, I thought it would be too dark…but it's perfect!! I love the colors you chose for the galaxy background!
Karen in Florida
July 15, 2019
Beautiful! And such a fun way to use watercolors! I love this idea, gonna try it tonight for sure!!?
Erika Hayes
July 15, 2019
Awesome watercolor galaxy backgrounds, I love the shimmer, thanks for the great video! Like Karthikha I also have the question: Do you have to use MFT stamps?
I love the background – enjoying Day 1 of Camp MFT.
Amazing technique and great tutorial. Excited to join Camp Create for the first time!
Love the look of those watercolour backgrounds. Hope I can find time to join in the fun at Camp Create 2019.
So excited for MFT's Camp Create!
Robin Ridpath
July 15, 2019
What a fantastic galaxy background!! Loved watching the video! :)
A quick question, is it mandatory to use MFT products to participate in the Camp Create?
Karthikha Uday
July 15, 2019
Leave a comment