The Birthday Project Challenge - Peek-a-Boo Surprise
By Stephanie Klauck
June 20, 2019
Friends at First Sip features the perfect images to celebrate friendship and a favorite daily pick-me-up and today only, it's yours FREE with every order of $45! There's no code necessary, so fill your cart and take advantage of the numerous Ways to Save available to you with every order placed. *after discounts, before shipping & tax
---
Despite different backgrounds, beliefs, and traditions, one thing we share that unites us and is worth celebrating is the birthday of friends and family. Recognizing the special day of someone you love with a handcrafted card straight from the heart is always a good idea and if stocking your stash with unique birthday designs is on the agenda, have we got the perfect challenge for you!
Our monthly Birthday Project challenge features ideas for getting creative with your birthday card making. Our team is excited to share their ideas, and we're ALL excited to see how the challenges inspire you!
While some surprises are less-than-welcome, a birthday surprise is definitely an exception. If the birthday boy or girl isn't the surprise party type, crafting a card that features a peek-a-boo element is a perfect compromise. With a variety of Die-namics options — from flip-up windows to interactive wheels, you're sure to come up with the perfect peek-a-boo design for this month's Birthday Project challenge.
MFT products are encouraged, but not required - just make sure to add a peek-a-boo element to your birthday project to be eligible! You can enter your cards for this week's challenge in the Inlinkz Link Up at the bottom of this post.
At first glance, it appears as though Torico created a simple birthday shaker design featuring the Ocean View Porthole Die-namics and a charming shark from the Friends with Fins stamp set. Imagine the recipient's surprise when the card is opened, and it reveals a gorgeous underwater scene, a sweet birthday message, and a colorful ocean floor!
Congratulations, Sue! You are the randomly selected winner of last month's Birthday Project challenge.
You can view all the entries for last month's Birthday Project challenge HERE.
Now, it's your turn. You have until Wednesday, July 17, at noon EDT to add your link and be eligible for the prize of $50 in MFT Cash to be spent in the MFT boutique. Winners are chosen at random, so everyone has a chance!
Make sure to add a peek-a-boo element to your birthday project to be eligible! Projects that do not fit the challenge theme may be removed from the challenge entries.
Check out some of the other projects this month's challenge inspired our team to create: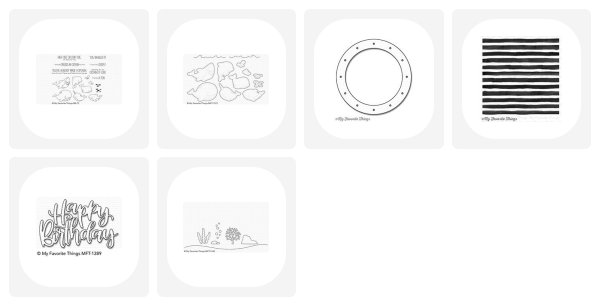 To enter a challenge in the Inlinkz link-up, click on the 'Inlinkz Link Party' button below. You can add images from your blog or load them directly from your social media accounts, such as Instagram, Flickr, etc…
Enter your link, your name and your email address (your email remains private) for the card you would like to enter.
Once you've selected your image, you'll need to check the box below the image area and then click on 'done' to upload your project.
5 comments
The flip up shaker window is so creative, well done Torico!
Tracey McNeely
June 23, 2019
this is awesome card!
love it!
Such a beautiful card loved anything ocean theme
I love this card!! Fantastic! :)
Karthikha Uday
June 21, 2019
Leave a comment