Skip to content
Free Shipping on Contiguous US Orders $85+
High Fives for HUGE Savings — Save 45% on 1️⃣ Stamps 2️⃣ Dies 3️⃣ Stencils 4️⃣ Rubber Backgrounds 5️⃣ Inks with Code HI5 Applied at Checkout 🖐🏼 Order NOW *excludes new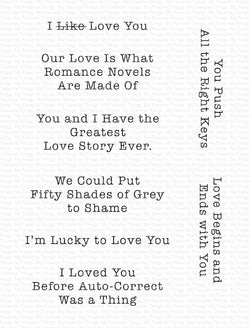 Typewriter Sentiments: Love
A typewriter by itself is just an amusing memento that recalls a time when desktop computers weren't a standard feature in our lives. A neatly typed message, though, provides personality and turns a nostalgic scene into a charming means of conveying a heartfelt message. When paired with the Typewriter Die-namics, this delightful little set will help you send the perfect words to those you love in an instantly familiar typewritten font.
Sentiments range from approximately 1 1/8" (I Like Love You) to 1 3/4" (I'm Lucky to Love You) in width.
Our clear stamps are made in the USA and include the name of the set on the sticker for easy identification.
January 2023 Release - 3" x 4" clear stamp set – (8) piece set
Sentiments: I Like Love You, Our Love Is What Romance Novels Are Made Of, You and I Have the Greatest Love Story Ever., We Could Put Fifty Shades of Grey to Shame, I'm Lucky to Love You, I Loved You Before Auto-Correct Was a Thing, You Push All the Right Keys, Love Begins and Ends with You