Skip to content
Free Shipping on US Orders $85+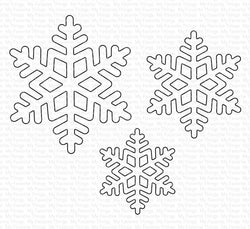 Stackable Snowflakes Die-namics
There's a chill in the air, and the image of big, bold flakes falling gently from the sky paints a pretty winter picture, doesn't it? Even if you're cold-weather averse, it's hard to deny the beauty of each unique little snowflake. Stackable Snowflakes features three sizes that can be scattered across the expanse of your card fronts or layered for extra appeal. Use them alone with a simple sentiment or as a backdrop to a wintry scene — the options are endless!
For best results and cleanest cuts, we recommend this die be used with the Large Metal Adapter Plate.
Die-namics, our very own exclusive American-made line of steel dies, work with a variety of die-cutting machines. Find your stack HERE.
November 2022 Release - (3) piece set
Flakes (3) 2 7/8", 2 1/4", 1 3/4"