Skip to content
Free Shipping on US Orders $85+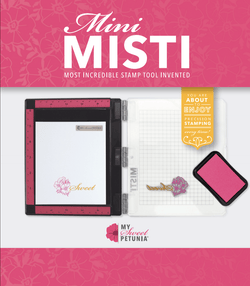 Mini MISTI - New & Improved
This is the Mini version of the Most Incredible Stamp Tool Invented — MISTI for short. Its simple hinge design provides consistent stamping for the novice or experienced crafter. It will accommodate both red rubber cling mount stamps and clear stamps. A foam pad is included to raise your card stock when using clear stamps. MISTI provides the ability to use magnets to help with positioning. MISTI is laser etched, saw cut, flame-polished, and hand-assembled with a variance +/- 1/16". Save time, supplies, and frustration with this ingenious tool. Measures 6" x 7" with a stamp area of 4 3/4" x 6".
The Grid Paper Pad is custom designed for use with the MISTI. This sample pad containing approximately 10 pages, includes a 1/4" grid pattern to provide for perfect placement of your stamps.
The included bar magnet will provide extra stabilization for your projects when used in conjunction with the MISTI magnetic base.
Please note: Neodymium magnets are very brittle and very strong magnetically. Therefore, it is crucial to handle these magnets with extreme care to avoid personal injury and damage to the magnets. Fingers can be severely pinched between attracting magnets. Magnets can chip if allowed to "jump" at an attracting object. Because of their brittle nature, magnets should be handled with care. Magnets will not be warrantied, replaced, returned, or exchanged.
The Mini MISTI includes everything you need to get started with the Most Incredible Stamp Tool Invented. This pack includes one Mini MISTI tool, one foam pad, one bar magnet, and one grid paper pad.
*MISTI products are not eligible for any additional discounts or application of loyalty point redemption discount codes.