Skip to content
Free Shipping on Contiguous US Orders $85+
High Fives for HUGE Savings — Save 45% on 1️⃣ Stamps 2️⃣ Dies 3️⃣ Stencils 4️⃣ Rubber Backgrounds 5️⃣ Inks with Code HI5 Applied at Checkout 🖐🏼 Order NOW *excludes new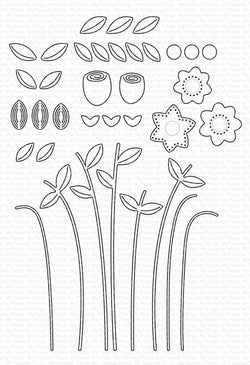 Fresh-Cut Flowers Die-namics
Tap into your inner florist by building a bountiful bouquet with the Fresh Cut Flowers Die-namics. Every project will be unique with this generous set that includes a multitude of flower, stem, and leaf options. Emboss line details on many of the pieces add dimension and realism, while a trio of jaunty blooms include pierced hole detailing. Plop your bouquet into one of our Mason Jar die options for a cozy, homespun centerpiece for your cards and projects.
The Fresh-Cut Flowers Die-namics was updated to replace emboss lines with cut line detailing on the leaves. This update creates a more impressive impact than the subtler emboss lines previously featured.
For best results and cleanest cuts, we recommend this die be used with the Large Metal Adapter Plate.
Die-namics, our very own exclusive American-made line of steel dies, work with a variety of die-cutting machines. Find your stack HERE.
January 2023 Release - (17) piece set
Buds (3) 3/8" x 5/8" assembled
Tulip heads (2) 5/8" x 3/4", 1/2" x 5/8"
Tulip leaves (4) 1/4" x 5/8", 1/4" x 1/2"
Pierced flower heads (3)1", 7/8", 3/4"
Stems (8) ranging from 2 7/8" to 4 1/4" in height
Leaves (10) 1/4" x 5/8", 1/4" x 1/2"