Skip to content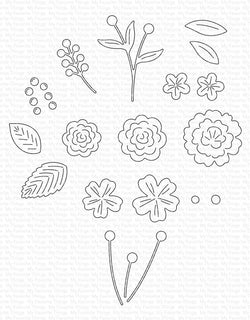 Flower Bouquet Die-namics
Flowers are always a good idea. Paper bouquets last a long time (and may be preferable to those with allergies!), so this die set will become an instant classic in your stash. Lots of layers of flowers, stems, foliage, and berries will result in lush bouquets for your cards and tags. Pretty pastels evoke spring sprays of fresh new blooms, while rich jewel-tone hues are an ideal choice for celebrating autumnal occasions. Many of the elements featured in the Flower Bouquet die set include cut line detailing, providing more dimension. Pair this set with the Flower Bouquet Builder Stencil to add realistic shading — flower centers, petal shadows, and leaf veining options are just the ticket for breathing life into your posies. Finally, tuck your bouquet into the Bouquet Wrap and pat yourself on the back for a job well done — you're a florist, now!
Die-namics, our very own exclusive American-made line of steel dies, work with a variety of die-cutting machines. Find your stack HERE.
March 2022 Release - (14) piece set
Two-flower stem 1 5/8" x 2 1/8"
Single-flower stems (3) 1/4" x 1 7/8", 1/4" x 1 1/8", 1/4" x 2"
Berry stem 5/8" x 1 1/2"
Smooth-edge leaves (2) 1 1/8" x 3/8", 7/8" x 3/8"
Smooth-edge veined leaf 5/8" x 1"
Serrated-edge leaf 3/4" x 1 3/8"
Flowers (7) ranging from 5/8" to 1 3/8"