Skip to content
Free Shipping on US Orders $85+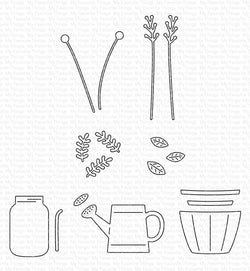 Farmhouse Foundations Die-namics
Impart a farmhouse vibe to your cards and tags with this trio of traditional vessels and an assortment of stems and foliage. We've included a mason jar, watering can, and rustic bushel basket for you to choose from — each will provide a beautiful centerpiece for your autumn-themed projects. You can pair this set with the sunflowers featured in the Sunflower Wreath die set or other florals already in your stash! Alternatively, pile the bushel basket high with a bounty of produce, or use the mason jar for a tasty beverage…just have fun!
Die-namics, our very own exclusive American-made line of steel dies, work with a variety of die-cutting machines. Find your stack HERE.
August 2022 Release - (17) piece set
Bushel basket 1 5/8" x 1 1/8"
Watering can 2 1/8" x 1 1/4"
Mason jar 1" x 1 1/2"
Tall stems (2) 1/4" x 2 3/4"
Short stems (2) 1/4" x 2 1/8"
Veined leaves (3) 1/2" x 1/4"
Leafy foliage (3) 1/4" x 3/4"