Skip to content
Free Shipping on Contiguous US Orders $85+
High Fives for HUGE Savings — Save 45% on 1️⃣ Stamps 2️⃣ Dies 3️⃣ Stencils 4️⃣ Rubber Backgrounds 5️⃣ Inks with Code HI5 Applied at Checkout 🖐🏼 Order NOW *excludes new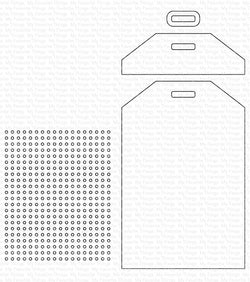 Cross-Stitch Tag Die-namics
Combine your stitching hobby with your paper-crafting hobby — crossover crafting can't be beaten! We can't wait to see all the creative uses you come up with for this handy design! The Cross-Stitch Tag Die-namics makes it easy to create the perfect canvas for your stitched designs. Add a small stitched accent or fill the tag with an intricately stitched design. The stitch-hole element is positioned within the tag so you can leave it in place, or choose to snip it out to use as a stand-alone die.
This set features a stitch hole count of 18 x 22 to create an 8ct cross-stitch design.
Tip: Stack your die-cut tags and punch out the stitch holes in multiple tags to speed (and ease!) the process.
Find a variety of printable PDF patterns to use with your Cross Stitch Tag Die-namics HERE. Happy stitching!
For best results and cleanest cuts, we recommend this die be used with the Large Metal Adapter Plate.
Die-namics, our very own exclusive American-made line of steel dies, work with a variety of die-cutting machines. Find your stack HERE.
October 2017 Release - (4) piece set
Tag 2 5/8" x 4"
Stitch holes 2 1/4" x 2 3/4"
Tag topper 2 5/8" x 7/8"
Reinforcement 3/4" x 3/8"