Skip to content
Free Shipping on US Orders $85+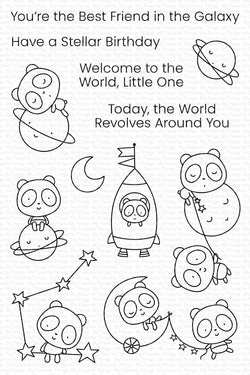 Best Friends in the Galaxy
Hitch a ride on the moon and propel your creativity into the stratosphere with this charming assortment of galactically cool bears enjoying all the best things about the outer reaches of the universe. This set is perfect for everyone from bitty babies to your galaxy-loving granny, with image options featuring planets, rocket ships, and a constellation.
Our clear stamps are made in the USA and include the name of the set on the sticker for easy identification.
March 2023 Release - 4" x 6" clear stamp set – (12) piece set
Sentiments: Love You to the Moon and Back, Have a Stellar Birthday, Welcome to the World, Little One, Today, the World Revolves Around You
Rocket bear 7/8" x 1 7/8"
Constellation bear 1 3/8" x 1 3/4"
Moon car pair 2 1/8" x 1 3/8"
Planet pair 1 1/8" x 2 1/4"
Sleeping bear on planet 1" x 1 3/8"
Bear sitting on planet 7/8" x 1 3/8"
Solo planet 7/8" x 5/8"
Moon 1/2" x 5/8"