Skip to content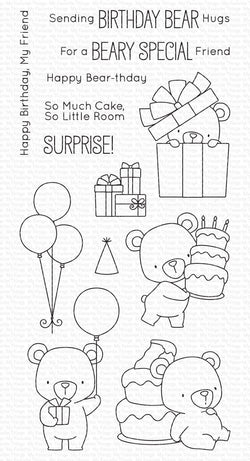 BB Beary Special Birthday
Make some beary special cards for your most special people with this adorable assortment of birthday bears. We've come to expect crazy cute from Birdie Brown, and this set is no exception! Four charming bears take center stage with gifts and birthday cakes galore. Add balloons and a stack of presents to your scene and give a festive party hat to the bears for an extra dose of oh-my-goodness cute! The sweet and punny sentiments are the perfect complement to the delightful images. You won't be able to bear how irresistible the cards your cards are about to become.
Our clear stamps are made in the USA and include the name of the set on the sticker for easy identification.
October 2021 Release - 4" x 8" clear stamp set – (13) piece set
Sentiments: Sending Birthday Bear Hugs, For a Beary Special Friend, Happy Bear-thday, So Much Cake, So Little Room, Surprise!, Happy Birthday, My Friend
Bear in gift 1 5/8" x 2 1/8"
Bear holding cake 1 7/8" x 2"
Bear leaning on cake 2" x 1 7/8"
Bear with balloon 1 5/8" x 2 7/8"
Balloon bundle 1 1/8" x 2 1/2"
Present pile 7/8" x 7/8"
Party hat 3/8" x 5/8"