Skip to content
Free Shipping on US Orders $85+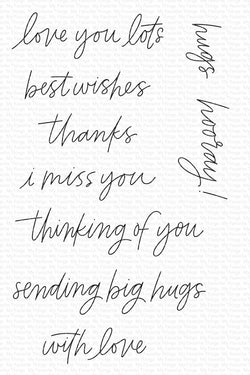 Everyday Scripted Greetings
Several greeting options that encompass a wide range of occasions are rendered in a pretty hand-scripted style. Perfect for accenting your card front or finishing off the card interior with a heartfelt message, you'll find Everyday Scripted Greetings endlessly useful.
Our clear stamps are made in the USA and include the name of the set on the sticker for easy identification.
May 2022 Release - 4" x 6" clear stamp set – (9) piece set
Sentiments: love you lots, best wishes, thanks, i miss you, thinking of you, sending big hugs, with love, hugs, hooray!