Skip to content
Free Shipping on US Orders $85+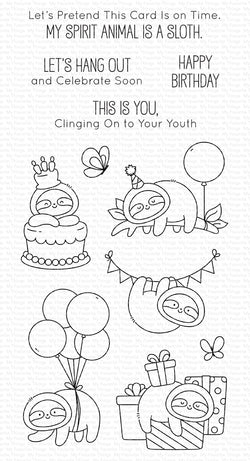 JB Hang Out and Celebrate
Who doesn't love sloths? They're cute and cuddly and fully embrace their role as the chillest inhabitants of the animal kingdom. Hang Out and Celebrate features sloths donning their party animal personas…they are partying, they are animals, but they're doing it in their unique way — low effort but still completely fun. If sloths travel at your preferred speed, or you just find them as irresistible as we do, this is a must to add to your stash of birthday-themed stamp sets!
Our clear stamps are made in the USA and include the name of the set on the sticker for easy identification.
July 2023 Release - 4" x 8" clear stamp set – (11) piece set
Sentiments: Let's Pretend This Card Is on Time. My Spirit Animal Is a Sloth., Let's Hang Out and Celebrate Soon, Happy Birthday, This Is You, Clinging On to Your Youth
Cake sloth 1 1/4" x 2"
Branch sloth 2 1/8" x 1 5/8"
Banner sloth 2" x 1 1/2"
Balloon sloth 1 1/2" x 2 3/4"
Present pile sloth 1 7/8" x 1 3/4"
Butterflies (2) 1/2" x 1/2", 3/8" x 3/8"