Skip to content
Free Shipping on Contiguous US Orders $85+
High Fives for HUGE Savings — Save 45% on 1️⃣ Stamps 2️⃣ Dies 3️⃣ Stencils 4️⃣ Rubber Backgrounds 5️⃣ Inks with Code hi5 Applied at Checkout 🖐🏼 Order NOW *excludes new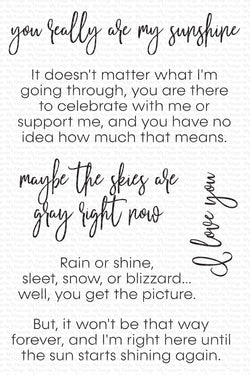 Inside & Out Sending Sunshine
Send sunshine in card form with this selection of inside & out phrases. Entice your recipient to look a little closer by spotlighting a pretty script greeting on your card front, then follow it up with a heartfelt sentiment that will hit them right in the feels.
Our clear stamps are made in the USA and include the name of the set on the sticker for easy identification.
May 2023 Release - 4" x 6" clear stamp set – (6) piece set
you really are my sunshine 3 5/8" x 3/4"
It doesn't matter what I'm going through, you are there to celebrate with me or support me, and you have no idea how much that means to me. 3 3/8" x 1 1/8"
maybe the skies are gray right now 2 1/2" x 1 3/8"
Rain or shine, sleet, snow, or blizzard...well, you get the picture. 2 7/8" x 3/4"
I love you 1 5/8" x 3/4"
But, it won't be that way forever, and I'm right here until the sun starts shining again. 3 1/2" x 3/4"