Skip to content
Free Shipping on Contiguous US Orders $85+
High Fives for HUGE Savings — Save 45% on 1️⃣ Stamps 2️⃣ Dies 3️⃣ Stencils 4️⃣ Rubber Backgrounds 5️⃣ Inks with Code hi5 Applied at Checkout 🖐🏼 Order NOW *excludes new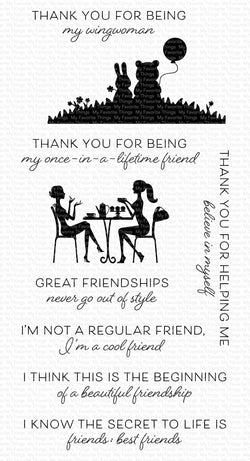 At the Movies - Friendship
Inspired by iconic movie lines, At the Movies – Friendship recognizes all types of friendship…from your lifelong bestie to the mom you just met at your kid's ballet class. Every friendship plays a valuable role in ensuring your life is full and meaningful and this collection of sentiments features an option for celebrating them all. In addition to seven sentiments, you'll love the two silhouetted scene options for making fast and easy cards your friends will cherish.
Our clear stamps are made in the USA and include the name of the set on the sticker for easy identification.
March 2023 Release - 4" x 8" clear stamp set – (9) piece set
Animal scene 3 1/8" x 1 1/2"
Girlfriend scene 2 1/8" x 1 3/8"
Thank You for Being My Wingwoman 2 5/8" x 1/2"
Thank You for Being My Once-in-a-Lifetime Friend 3" x 1/2"
Great Friendships Never Go Out of Style 2 1/4" x 1/2"
I'm Not a Regular Friend, I'm a Cool Friend 3 1/8" x 1/2"
I Think This Is the Beginning of a Beautiful Friendship 3 1/2" x 1/2"
I Know the Secret to Life Is Friends: Best Friends 3 1/2" x 1/2"
Thank You for Helping Me Believe in Myself 3 3/8" x 1/2"