Skip to content
Free Shipping on US Orders $85+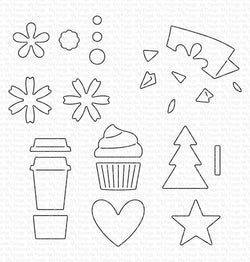 Die Cuts and Scraps Die-namics
It's the messy work in the middle where the magic happens — cutting all the bits and bobs that will eventually come together into one beautiful, cohesive project…that litter of paper transforms into the elements that will help convey your heartfelt messages. Die Cuts and Scraps, in addition to including a selection of classic icons that will perfectly fill the miniature card fronts featured in the Paper Goods Die-namics, also boasts a fun scatter of the resulting scraps created while you work for maximum realism.
Die-namics, our very own exclusive American-made line of steel dies, work with a variety of die-cutting machines. Find your stack HERE.
December 2022 Release - (7) piece set
Flowers 3/8" to 3/4" in diameter
To-go cup 3/4" x 7/8" assembled
Heart 7/8" x 3/4"
Star 7/8" x 3/4"
Christmas tree 3/4" x 1 1/2"
Cupcake 7/8" x 1" assembled
Flower negative 1 1/4" x 7/8"