Skip to content
Free Shipping on US Orders $85+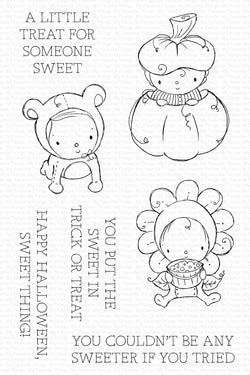 RAM Sweetest Trick or Treaters
Babies in costumes — what could be cuter? Rachelle Anne Miller style makes these trick-or-treaters-in-training a perfectly charming option for celebrating the holiday minus the spook factor. You can spotlight a solo bedecked babe or combine two or three for a real party! The best part about babies with candy is they are really good at sharing, so there's never been a better time to treat yourself to a sweet new set!
Our clear stamps are made in the USA and include the name of the set on the sticker for easy identification.
August 2023 Release - 4" x 6" clear stamp set – (7) piece set
Sentiments: A Little Treat for Someone Sweet, You Put the Sweet in Trick or Treat, Happy Halloween, Sweet Thing!, You Couldn't Be Any Sweeter If You Tried
Pumpkin baby 1 5/8" x 2 3/8"
Bear baby 1 3/8" x 1 3/4"
Flower baby 1 1/2" x 2"