Love Is in the Air — Can You Feel It? AND Announcing Our $100 Season's Givings Winner
Before getting to today's post, we'd like to announce the randomly selected winner from the Season's Givings Blog Hop.
Congratulations Peggy Pighetti! You have won a $100 Gift Voucher to the MFT Boutique. Keep an eye on your email as we'll be contacting you later today with the details.
Thank you to everyone that participated in this year's blog hop. It's all of *you* that make this community so special.
---
Can you feel it? Love Is in the Air! Our January release is filled with ways to show your love so the rest of this week, we're sharing ideas for making handmade Valentines for all your favorite people. Join us today through Friday for projects featuring loads of heart.
Love Is in the Air — Kids & Teachers
You'll LOVE the projects we have today designed with kids and teachers in mind. If you create Valentines for these amazing people, today's projects are sure to inspire you. Be sure to click over to each of our designer's blogs for more info on each of their projects!
Teachers deserve to be celebrated and pampered every chance we get. This trio from Julie would be a much-loved treat for all the teachers that care for your children this Valentine's Day. A chocolate and tea pick-me-up might be the perfect remedy for a stressful day, and a heartfelt greeting of appreciation is the cherry on top! The pretty patterns included in the Sweet Stack Paper Pack make coordinating the three pieces a breeze and the Tweethearts songbirds provide a sweet finishing touch.
Rachel reached for the Sweet Stack Paper Pack (yes, it is perfect for Valentine's Day…you'll reach for it again and again long past February though!) as well. She paired the Wonderful Woodland Friends with that dainty heart pattern in creating this ingenious box card that your child will proudly display for months to come. This irresistible dimensional design is packed with love.
Karolyn has pulled double duty today creating treat toppers for the kiddos and a sweet little tag to accent a potted plant or another thoughtful gift for the teacher. She's shared some great tips for getting kids involved in the assembly process, and her tip for creating the topper element handle is ingenious!
Watch Love Is in the Air — Valentine Treats for Kids & Teachers on YouTube or by playing the embedded video below.
Want to win a $25 voucher so that you can create Valentines with some fun new products?
To be eligible to win: leave a comment on this blog post.
Deadline to comment is Sunday, January 13 at 10 PM EST.
All winners will be announced on Monday, January 14, so make sure to check back to see if you are a winner!
We hope you are feeling the LOVE!
Julie
Rachel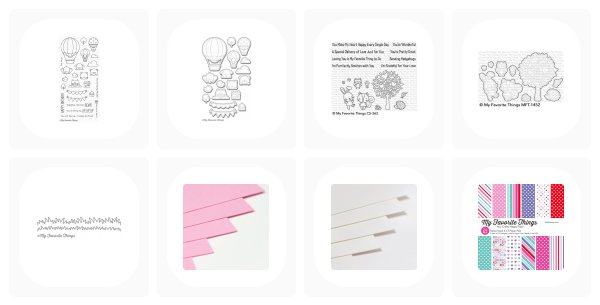 Karolyn