What's your pattern passion? Whether dots, stripes, or florals, we have you covered with our collection of patterned paper packs. This month, we've challenged our designers to work their magic with a specific group of them — it's all about the pastels! Check out how these soft MFT colors have been worked into a variety of beautiful projects from the team.
Check out how Vika continues her Tiny Hearts pattern by aligning two die-cut mats just so. Since our patterns are coordinated with twelve different color options, you have the ability to seamlessly mix and match to customize each project — extending your pattern with a contrasting color is a great way to add interest without detracting from your focal point elements!
I think our color palette and the season inspired both of our designers to think spring and include adorable bunny imagery in their challenge looks. While Vika went with the latest design from Birdie Brown, Melania pulled out the previously released Beach Bunnies set for her pastel perfection. Using subtle patterns like our Graphic Grid to die cut scene elements is such a fun way to integrate pattern into your projects.
This is just the beginning – keep on clicking to see how others on our team interpreted this Hits & Highlights challenge:
Vika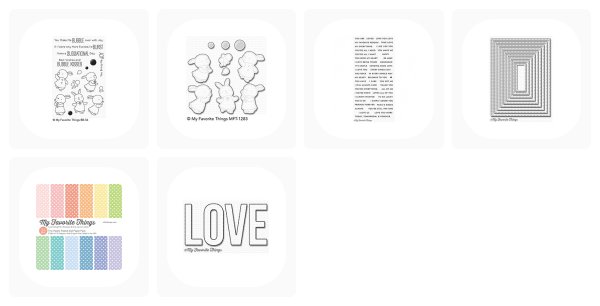 Melania